Today we are going to talk about the Honor magicbook x14 review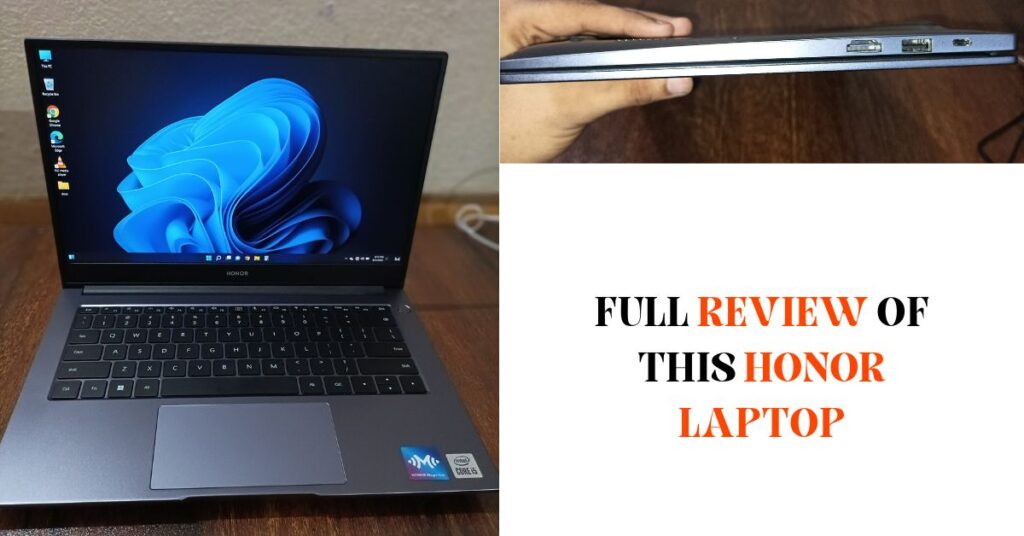 Hello friends, if you are also thinking of taking the honor magicbook, then stay with this post today because👌 in today's post we are going to review the details of this laptop and will also share our experience👌,
we have been using it for a few days, due to which we have got a lot of knowledge👌 about it and today we are going to share the same knowledge with you friends, this laptop comes for 40000👌
and has a very good processor and battery backup to see. But will this laptop be perfect for you too or not, after seeing this post today, you will understand completely, then stay tuned with this post today👌,
Specification of this laptop Honor magicbook x14 review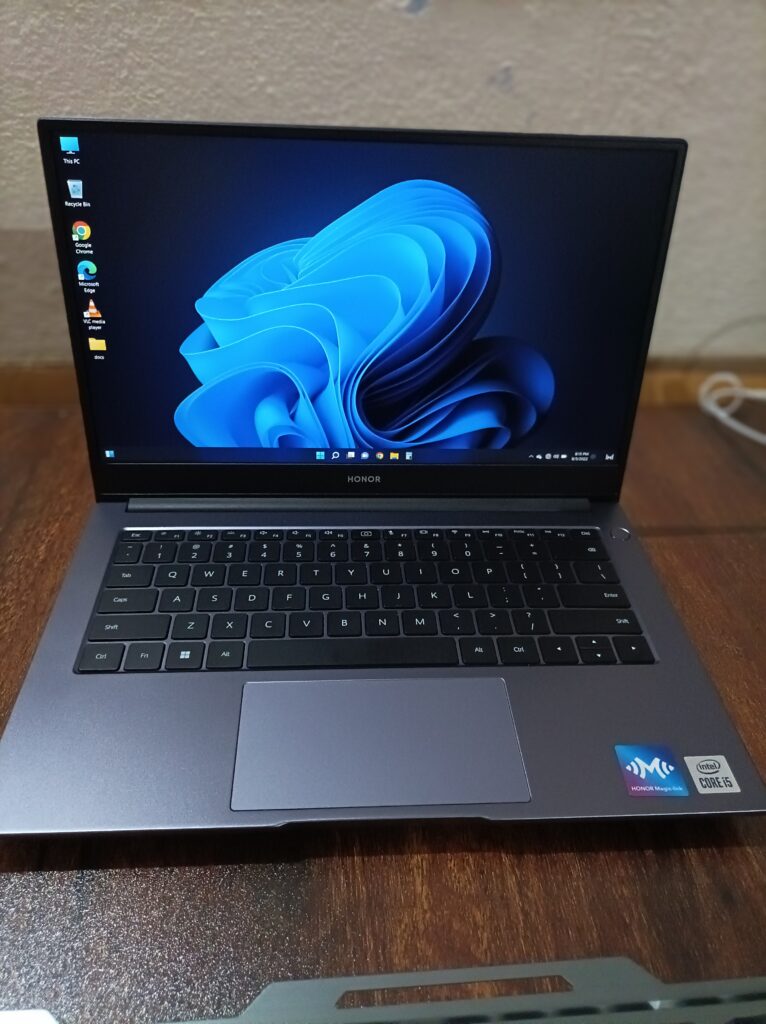 connectivity
wireless
speakers
2
ports
range
3
10 meters
OS
Windows 11
processor
RAM
storage
intel core i5 10 gen
8 GB
512 GB SSD
fingerprint
yes
display
14-inch
Buttons
battery
yes
10-hours
backlight keyboard
yes
Microphone&
warranty
yes
1-year
Design and build quality Honor magicbook x14 review
friends, if we talk about the design👌 and build quality of this laptop then there is no answer to this as you can see whose whole body is made of metal which is a good thing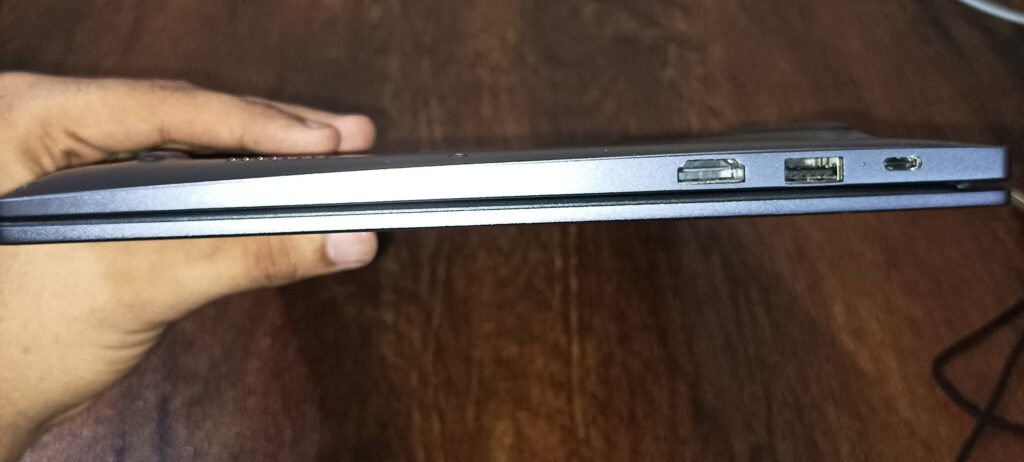 and there is not much in the middle which is only 1.38KG👌 which makes it very portable too. And its color is given in gray, silver collar options, out of which you can choose any.,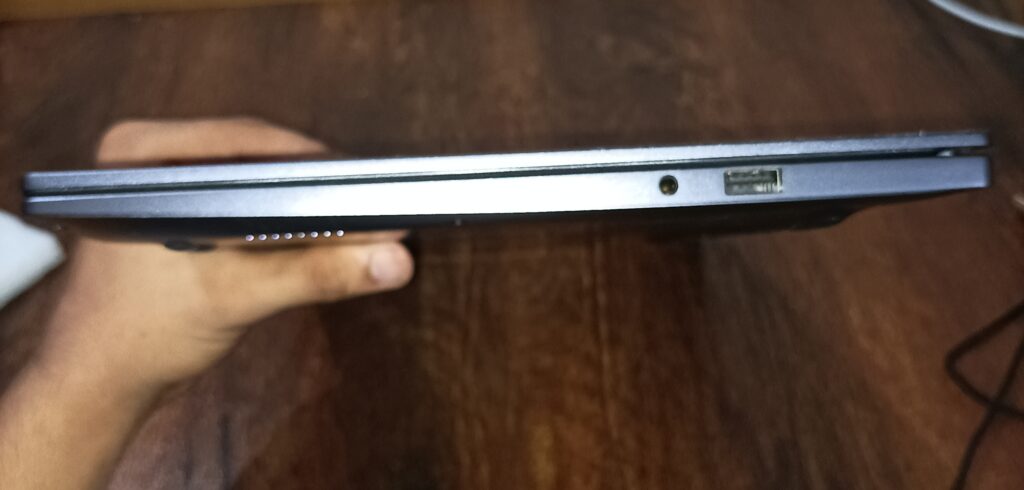 because everyone's price is the same, friends, it is not water resistant👍 but it is very strong and there is very little flex in it, which is a very good thing, it looks very premium and looks no one Can't even say that the price of the laptop is only and only around ₹ 40000👍.

Friends, two ports such as USB Type-A, and Thunder Bolt👌 are given on the left side of the physical connectivity case, and on the right side, there is also a USB Type-A and one Headphone jack👌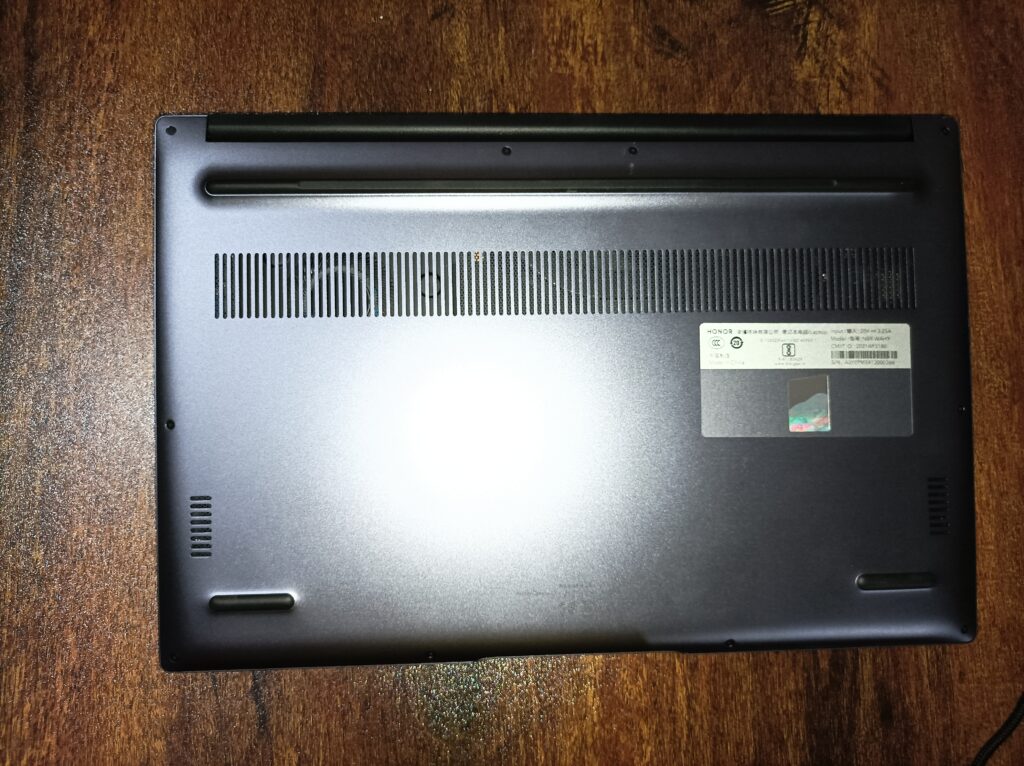 Honor magicbook x14 review
Read also: best laptops under 50000
Display and camera and microphone
friends the display of this laptop is counted the best laptop among👍 displays because a perfect display has been used in this laptop which is not seen in any other laptop at this price point
because the laptop has a 14-inch Full HD IPS panel, its display becomes👍 the best and it also absorbs the reflection of light to a great extent because its display is Anti-Glare.
which is very good for the eyes, you can work continuously for8 or 9 hours👍 in your eye. there is also not going to be a problem because blue light comes out very less in this display and which also got absorbed👍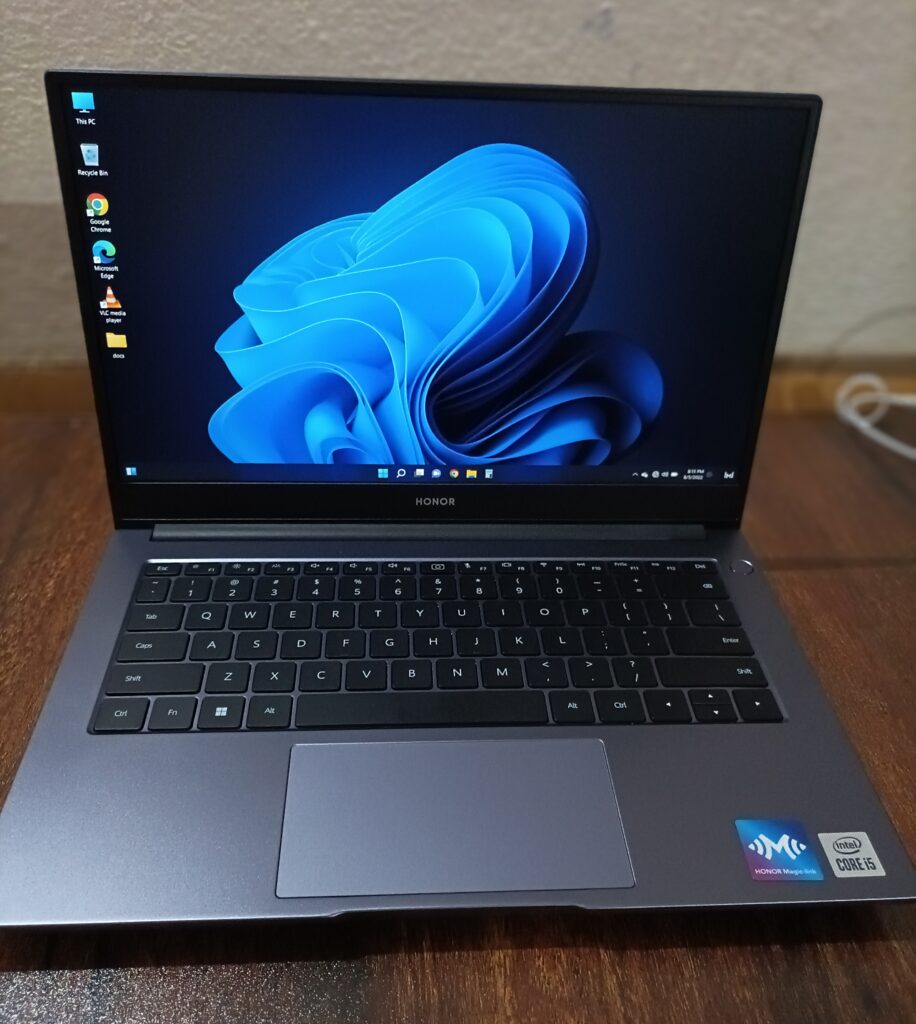 friends, it is also very good in terms of multimedia and entertainment because its bezels are so thin that Due to which you can easily enjoy Full HD movies, and can also play 4K videos, it will not lag and you will not have any disturbance👍 at all due to the absence of the camera on the top of the display.
friends, as we have told you that the camera is not given upwards in this, but then the question will definitely arise in your mind that if its camera is not upwards, then where is its camera given between f6 and f7in the form of a button👍,
when you press the camera comes up in the form of a popup and with the help of this, you can record video up to 720p👍, the quality of the camera is excellent but friends, you may have a little problem with the angle👍.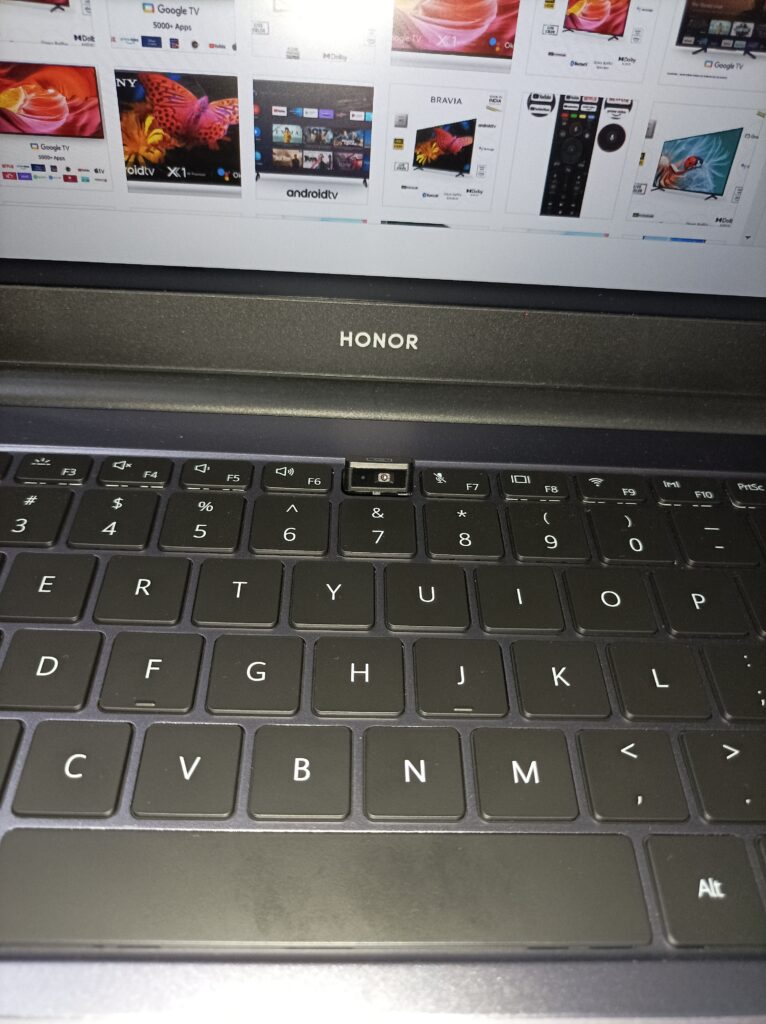 Because if you sit in front of you, then you are your only chest area the cover will be the same👍, you will have to sit a little far away, due to which your entire face is able to be captured in it, it is a completely new and unique thing, which is being liked by a lot of people👍,
friends, just below the trackpad👍 of this and two microphones on the front. With the help of which you can do voice recording and online conferencing,
its quality is very good and it will capture your voice from far away so that you will not face any problems related to distance and the quality of its mic is very good and clear and it can record very well👍
Honor magicbook x14 review
Read also: best laptops under 50000
Storage and processor
Friends, the identity👍 of any laptop or its life is the processor and its storage because the entire performance of the laptop is almost dependent on these two things if these two things are yours. If the laptop is good, then your laptop lasts for a long time and there is no lag👍 in it, due to which the experience is also good
and the Honor company has taken full care of this, that is why in this laptop you get to see 512GB NVMe SSD👍 whose speed is very high and it can send GB's file in seconds👍
and friends, you can also change its system, due to which the capacity can also be increased which will not give any problem in the upgrade but it has one It is the SSD slot👍, due to which if you want to replace its SSD, then you have to remove the old storage, which is a bit of a problem
During our testing, the read speed of this laptop was 3420 MB👍 and the write speed was 2113 MB👍, which is very good and faster,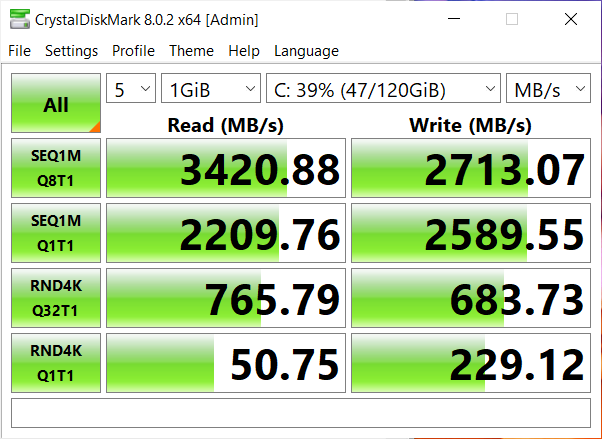 friends, this laptop can give you very good performance and you can easily Habitat them in it, 1080p❤️ average video editing❤️ can also be done in it and you can use it for little gaming
Because the I5 10th generation processor has been used in this laptop and how good a processor it is, you probably do not need to tell this processor, you get to see 4 cores and 8 threads which are normal
if it has 6 cores and 12 threads then the performance would have been better, of this processor's Base clock speed 1.6 GHz❤️ and maximum clock speed 4.2 GHz, due to which you are going to get a very good speed ❤️
friends, when we started editing so many videos, due to lack of dedicated GPU, its processor started using up to 70% but then Also this laptop is or was not lagging at all, which shows its optimization and you can easily do video editing in it,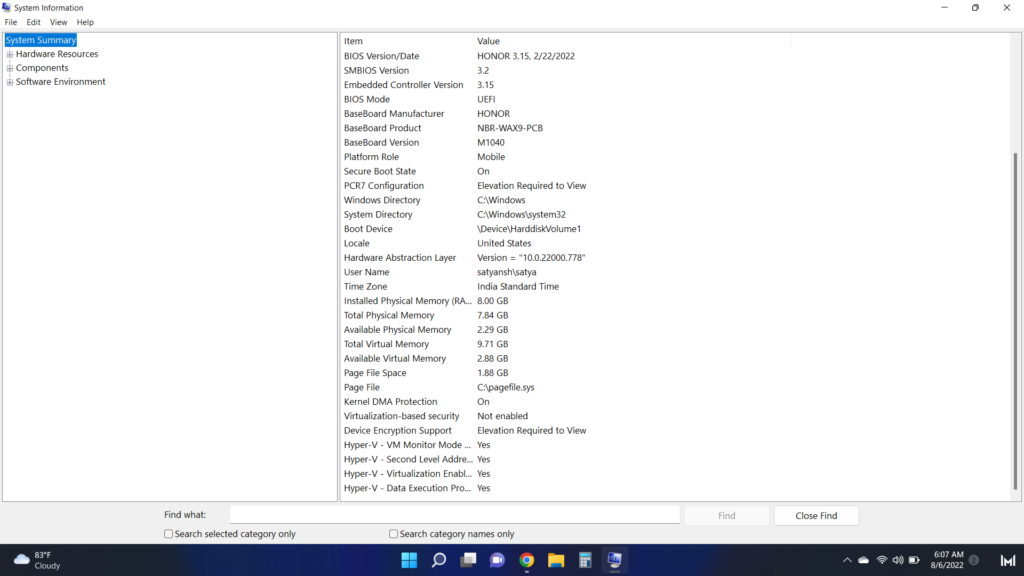 this laptop is going to be perfect for study or office purposes in which timepass gaming can also be done
Friends Intel integrated UHD graphics have been used in it to manage its display, but if there were a dedicated graphics card❤️, then the performance of the laptop would have been even better,
, this laptop manages multitasking very well, during our testing, was almost able to manage 22 chrome tabs ❤️ easily which is also a very good thing and we were also using about 4 other applications❤️ in it
and it was not lagging at all even at that time giving a much smoother experience Because 8 GB of RAM❤️ has been used in this laptop, whose frequency is 2400 MHz, which is a little less, if 3200 MHz❤️ were less than it would have performed very well but this is not a gaming laptop so that can be accepted like this
Read also: best laptops under 30000
Test and more features Honor magicbook x14 review
friends, we have profiled more than 20 tests in this, in which the result of all was very good, in some condition this laptop could not maintain its performance like heavy gaming we are trying to run games like gta5 in it 720p❤️ was running pretty great❤️
but when going up to that or the laptop was lagging and at this price, we can expect
it, similarly on 4K video editing also got to see some frame drop and lag Also, we tried to run about 8 applications❤️ on it simultaneously, but we were getting a little lag in performance❤️,
But friends, you will not do so much heavy tasking, we were doing it only for testing purposes so that your For this laptop will work perfectly without any frame drop or lag👍,
Honor has optimized the UI of this laptop a lot and software named PC Manager❤️ also comes from Honor's side, with the help of which you can update all its drivers as well as it will keep your laptop safe also tells health❤️

and with the help of this you can update Windows, set fingerprint, and many more customizations you can do with the help of this software which is a very good thing and it is very few laptops., which adds to its features❤️
Battery and wireless options
if we talk about its battery then it has a very good and big battery and it can run about 10 hours❤️ on normal tasking and if you do heavy tasking then it can last up to 8-9 hours which is nice and it has 65-watt boost charger support which can charge it in just 90 minutes❤️ and it got charged uo to 50% in just 30 minutes which is really commendable❤️
it has also and wifi and Bluetooth given for the wireless connectivity which is very nice and the speed is also good for wireless data pairing
Keyboard and trackpad
It happens and the Honor company has taken care of this very well 👌
because in this laptop you get to see the full-size chicklet keyboard, the whose typing experience is very good but this laptop is very slim, due to which you have a little less travel distance in it but still, you can easily type on it You will have a very good experience👌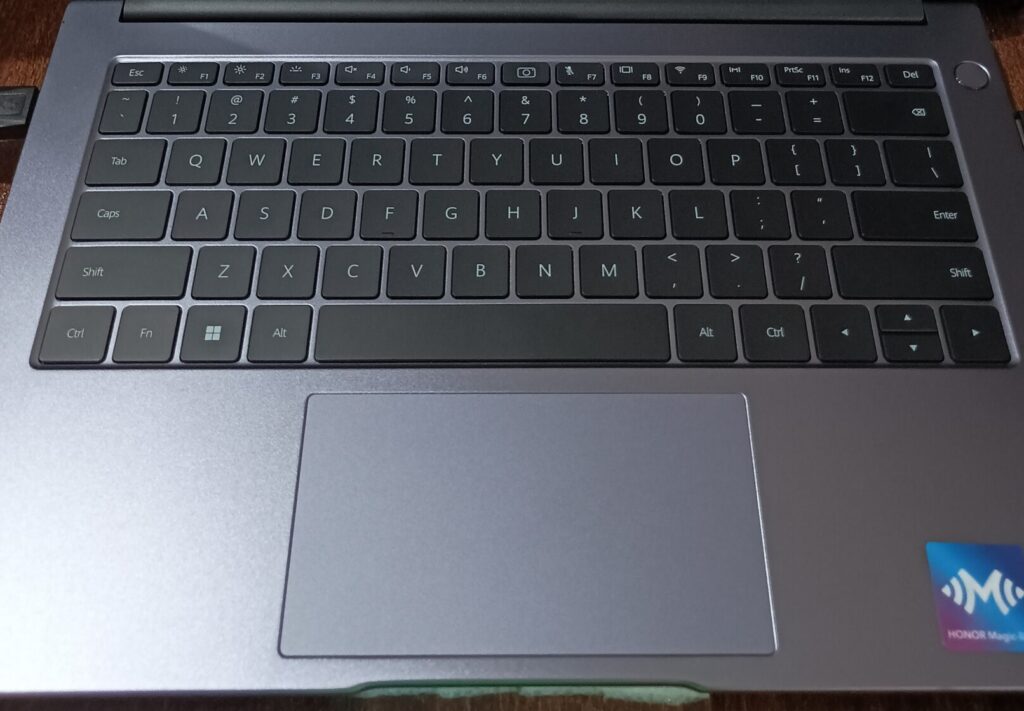 and its trackpad is made much bigger like MacBook and is very soft as well as two buttons 👌have been given in it and with the help of this you can do all the work very easily because its trackpad Performs very well👌
and friends, even if you work at night, you will not have any problem because in the x14 version you get to see the support of the backlight keyboard, which has a very high brightness and you can easily do your work👌.
Read also: best laptops under 80000
warranty and after sell service Honor magicbook x14 review
friends, this laptop is very secure because in this you get to see a fingerprint scanner that works on a biometric👌 system and makes your system much more secure
as well as antivirus comes preinstalled in it, due to which you also have to be afraid of viruses. There is no need for this and till you do not update this laptop, you will continue to bother seeing this message👌, due to which you will update it and its security will become even more optimized👌,
then in this laptop related to security you will not have any no problem either And this laptop works on the latest Windows 11, which is a very good thing and if you have access to the version of Windows Ten, then you can upgrade it to Windows 11👌 for free, which is a matter of great relaxation for you
friends this laptop comes with a 1-year warranty and 7 days replacement policy which is a very good thing but friends you can not return it as it has a replacement policy in some cases, if you request then you will also get a refund👌
If you do not like this laptop, talk about the after-sales service, then honor has made a special service center for this, in which the engineer will pick up this laptop from your home, and again it will be and repaired delivered to your home. You can call on this contact number 👌
Honor Laptop Customer Care Number: 18002096555 👌
Honor magicbook x14 review
Pros
very good design and look
fully metal body
14-inch display and IPS display
intel core i5 10th gen processor
8 GB RAM 2400 MHZ
512 GB RAM storage
1-year warranty
7-day replacement
2-in-1 Fingerprint Power Button
720P webcam
backlight keyboard
Windows 11 Home 64-bit
More
Last section to read
So, friends, this is the honest review of the Honor Magicbook laptop from our site in which we talked about all its things like design look build quality display and also tested its performance, and told you all the reports have been kept in front of everyone👌
and you can friends whether this laptop is perfect for you or not according to us or it will be perfect for a laptop if you want to do your office work or want to do some tasks like youtube on it but this laptop is not made for gaming then 👌
If you do not buy it for gaming, there are other options available in the market, we hope that you must have liked this article, and thank you very much for visiting this blog of ours for buying this laptop👌.
You can buy with the help of the given link, thank you very much for reading👌 this post of ours till then we will meet with another similar post till then take care and bay😢
Visit also
Read also: best laptops under 80000
Read also: best laptops under 30000
Read also: best laptops under 50000