Author's Bio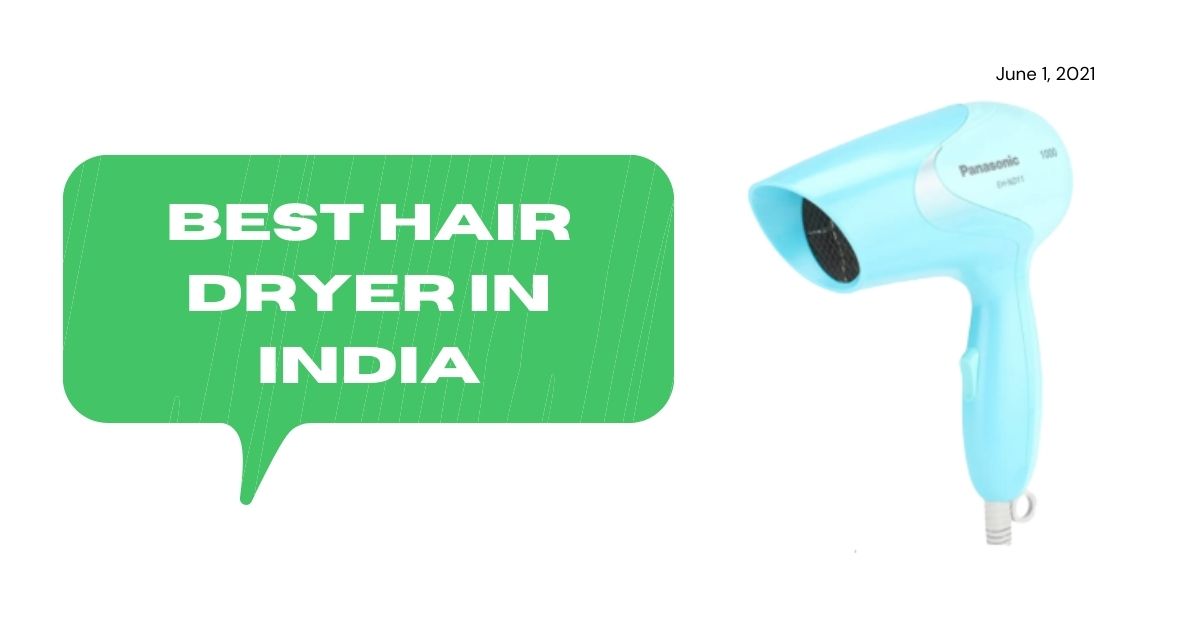 Rahul, an engineer by profession, has a knack for technology which brings him on board as a blogger with TechConsumer.com, a one-stop destination for information regarding gadgets, home tech, and tech reviews. When not in his techie-mind, you'd often see him cafe hopping and enjoying comedy shows.
How often do you stand in front of the mirror and toss your hair like a celebrity? Many of us do that. And if all men are like 'I don't do it we know the truth. Anyway, when you act like a celebrity, do you ever feel like you need a good hairdryer? Why now have the best HairDryer in India?
A hairdryer is as important as any other hair styling device. It keeps your hair intact and let's face it, blow-drying is always fun.
So, here we are with the list of the 5 best hair dryers in India. But before digging in for more information, let me tell you, all these hair dryers are from amazing brands. They have remarkable motor power and come in a variety of price ranges.
Now that you know the dirt, let's start with the blog on the Best Hair Dryer in India.
1. Havells HD3151 1600W Foldable Hair Dryer
Best Hair Dryer in India.
First, we have one of the most amazing hair dryers you can ever have. Havells HD3151 Foldable Hair Dryer is just the one you want. Its outstanding features are the real reasons why this one stands in the first position on this list.
With Havells, you get a 1600W powerful motor that does all the fabulous job. Yes, it has a compact body but the best part is its ability to fold. That's the key here. Plus, you cannot forget to appreciate its 3 heating modes that work wonders on your everyday hair styling.
Tired of the rigid hair dryers? Worry not because this Havells hair dryer has a detachable nozzle. Easy to hang using its hanging loop. FMI, jump on to the features.
Features of Havells Foldable Hair Dryer:
Has 3 different modes
Foldable body
Get 2 years of warranty
Prevents from overheating
Convenient because of its cool shot button
Costs around Rs 1,500
Best Hair Dryer in India.
2. Panasonic EH-ND11-A62B 1000W Hair Dryer
Here comes our first budget hairdryer for those who don't want to invest too much in a hairdryer. As the name suggests, this Panasonic Hair Dryer comes with a 1000W motor which is amazing because that's what you need for your regular usage.
Connecting it to your socket and styling while looking at the mirror would be amazing because this hair dryer comes with a cord length of 1.8 meters. Another good reason is its weight which is probably around 400 gms. All functions are trapped in a compact body. Isn't that amazing?
Features of Panasonic Hair Dryer:
There is no cool shot button in this dryer
Costs around Rs 600-700
It consumes about 1000W power
You can use 2-speed settings
Comes with a 1.8-meter cord
Convenient, compact, and portable
3. Remington compact hairdryer
Let's raise the bar a little. For those who think Rs 600 would be too little for their hairdryer investment, why don't you go for this Remington Compact Hairdryer? Yes, this one has quite a compact design with a 1600W motor for its powerful performance.
Remington hair dryer comes with 2 dry settings + 3 heat settings to help you style your hair better. You get a concentrating nozzle with this one that focuses on specific points while styling your hair. Attach its hanging tool near your socket and blow your hair just like any salon.
Features of Remington Compact HairDryer:
Save electricity with its power-saving more.
Detachable nozzle
Easy to carry and perfect for travel
Available with 3 heating settings and 2 speed settings
Consumes a power of 1800w
Costs around Rs 3,000
4. Wahl 5239-024 Super Dry Professional Styling Hair Dryer
Best Hair Dryer in India.
Looking for a professional hairdryer to get that salon to feel? Without any doubt hit that 'Buy Now Button to get this Wahl Super Dry Professional Styling hairdryer. Not a budget buy but a perfect choice for people who don't want to compromise on the quality.
It may cost a bit too much than the rest of the options but no doubt, this professional hairdryer is headed down the best you can have. It has a 200V powerful motor covered in a fabulous and elegant body. With a cool shot button, 3 heating modes, and 2-speed settings, it has everything that you need.
Plus, it may seem a little heavy but its features will make it worth the price and a little heaviness. Moving one, its performance will make you want to stop visiting your salon every time you need to get that perfect celebrity-like blow-drying.
Features of Wahl Super Dry Professional Styling Hair Dryer:
Comes with 3 variable settings and 2 speed setting
It has an AC collector Motor
Best Hair Dryer in India.
Works with the latest Tourmaline technology
Prevents damage from heat
Works with 240V
Costs around Rs 3,700.
5. Philips HP8100/60 Hair Dryer
What about the leading brands in the market of hairdryers? Go to the store and you will find Philips everywhere. That's why here we are with an amazing model by Philips. It is HP8100/60 Hair Dryer.
No doubt, this Philips Hair Dryer is amazingly powerful. All thanks to its 1000W motor packed in a super-compact body. Its contractor has a narrow design that makes it easy to dry up the targeted portion.
Attach it to the plug and take it as far as 1.5 meters. That's long and easy to manage. Moreover, for those who don't want to invest too much in a casual hair dryer, go for this one because it is very VERY reasonable. That's pretty reasonable for everyday yet occasional use.
Features of Philips Hair Dryer:
Very VERy reasonable because it costs just Rs 850.
Enables careful drying with 2 settings
Works with a power of 1000W
Convenient to store because of storage hook
Focused airflow
Protection from overheating
Conclusion
Don't want to step out of the house to get that gorgeous hair? Say no more. These Best Hair Dryers in India will blow your hair like a celebrity walking down the red carpet. Get yourself one and see the magic it creates.
Best Hair Dryer in India.